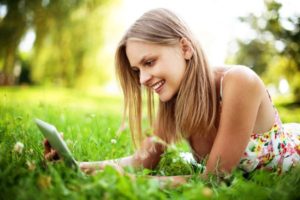 Are you picturing your lush green, newly installed lawn but you're not quite sure how to choose a lawn that fits your lifestyle? There are a few questions you might like to ask:
Do you have children or pets that will be on the turf?
Do you live in a coastal area of Queensland with high salinity in the soil?
Do you need a very hardy, low maintenance turf?
Do you prefer the feeling of fine leaf or broad leaf varieties of turf?
Will your turf be in a high traffic area?
All of these points will affect your choice of turf. Luckily, we have a handy guide to make sure you choose the lawn that fits your lifestyle perfectly.
High Traffic Turf
If you're looking for turf that can deal with high traffic areas, then you need to look for grass that is easily and quickly able to self-repair. It should have a thick and deep root system to withstand lots of shoes, pets and more. In this case, your options include:
Sir Walter Buffalo Grass: Sir Walter is popular for a good reason. It's fantastic for high traffic areas because it is fast growing. It also has a medium blade that gives it have the ability to withstand children and four-legged friends.
Wintergreen Couch: Couch grass isn't always known as being good for high traffic, but Wintergreen Couch has both above and underground runners. This makes it ideal for self-repairing and staying strong to resist wear and tear.
Fine Leaf Turf
Fine leaf turf is well suited for those who are after something that looks as wonderful as it feels. It can be tricky to find a fine leaf turf that is also hardy, so if you're on the lookout, you can't go past Zoysia Grass for your fine leaf turf choice. It can withstand medium levels of traffic but it also has higher levels of silica, which isn't present in other varieties. It's a beautiful looking lawn that's perfect if you're looking for the soft touch to your garden.
Turf That Handles the Coast
Living in Queensland typically means that your turf needs to be able to handle an area with high salinity in the soil. Zoysia is perfect for living on the Sunshine coast or anywhere by the beach as they can handle high levels of salt in the soil. Oz Tuff Sports Grass is also highly tolerant to salt areas and can handle high degrees of stress as opposed to other varieties.
Bring in the Experts
The team at Glenview Turf are the trusted experts in lawn care on the Sunshine Coast. Our knowledge and experience in lawns can't be matched. If you would like to have your turf installed with no problems and the right advice, get in touch with us today.