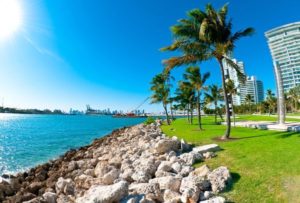 No turf is best for all situations. From shade tolerant to wear tolerant and low maintenance, selecting the right kind of turf for your property is the difference between a successful lawn that you can be proud of and a tired and cumbersome grassed area.
Choosing Turf
There are various factors that determine the ideal turf for your yard, including soil type, climate, weed invasiveness, salty air, wear and tear, and sun exposure. In a country like Australia, there can be huge differences in lawn care needs from place to place. Here are some examples of grass types that flourish in specific climate locations.
Tropical Carpet Grass – Northern Territory and North Queensland
Commonly found in the Northern tropical parts of Queensland and in the Northern Territory, this type of grass is well adapted to the climate and environment there. A unique trait is the red tinge that appears on the edge of the leaves during cooler months.
Seashore Paspalum – Western Australia
A drought tolerant grass that is ideal for Western Australia, as it grows in clay and sandy soils, as well as being resistant to salty coastal winds. It can be mown as low as 3mm, making it ideal for sports greens.
Eureka Kikuyu – Victoria
A super-fast growing turf that was specially developed to make it hardy and weed resistant. It is suitable for Victorian climates, as its aggressive growth is required to cope with the wear and tear of winter whilst being tolerant to sun exposure and high temperatures in the summer. Grown elsewhere this grass is high maintenance, growing at alarming speeds during the summer.
Ideal Turf For South East Queensland
The turf species discussed above are not ideal for the southeast Queensland area. Buffalo, Zoysia and Couch, all of which are available at Glenview Turf, are far better suited. All of these have excellent drought tolerance, use a low amount of water and have excellent wearability. The differences between them include shade tolerance, salt tolerance and growth rate. Which of these is best for you depends on the terrain and location of your property. A good first step is to walk around and evaluate the space in your yard.
Look at the amount of shade your lawn area receives and whether it will increase from growing plant life. Consider salt from a nearby coast and how often you will be prepared to mow. How hilly is the terrain and are you likely to experience a large amount of rainfall? What kind of pests, weeds and diseases occur in the area? Do some research online or chat to neighbours with great lawns or gardens if you're new to the area.
For detailed information about the type of turf that best suits your property, consult one of our friendly turf consultants today, who can provide you with expert advice on lawn care and lawn maintenance.