To maintain a healthy, vigorous lawn, we recommend you use a premium fertiliser two weeks after installation and then every 6-8 weeks all year round or at least the start of each new season.
When fertilising your lawn, apply approximately 30g per square metre and remember to water in well.
To help hold the colour of your lawn during winter, you can fertilise in late autumn using a combination of organic and slow release fertilisers.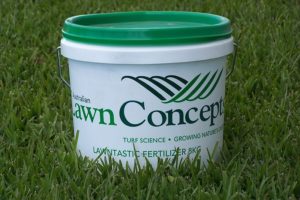 Our Sales staff at Glenview Turf can also assist you on choosing the correct fertiliser for your lawn.
We recommend the use of a premium quality fertiliser such as Lawntastic Fertiliser.
These products can be purchased when ordering your turf or
Call 07 5494 5616