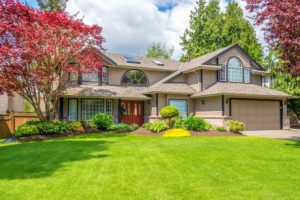 We at Glenview Turf are a Sunshine Coast-based company, so we know how hard it is to keep a nice yard on the Sunshine and the Gold Coasts. That's why we supply the turf tools and tips so that your front lawn is the envy of the block.
It's All About the Seasons
Depending on the time of the year, you must treat your lawn differently. For example, in the Spring, it is important to mow regularly to keep your lawn at the same height. Rake away twigs or leaves to make room for fertiliser, like our Professional Fertilisers or our Lawntastic Premium Fertiliser. Don't forget to sow the seeds into your lawn during the Spring to make up for the quarter of your lawn that can die throughout the year.
In the Summer, if it's too hot, don't cut your grass too short so it doesn't lose all of its nutrients. Don't wait for your lawn to get yellow or brown, but let it dry out a bit before you water it. It's best to do this in the early morning or late afternoon so that the water doesn't immediately evaporate. Warm, dry summers will require you to add a bit more fertiliser to make up for the drain of nutrients.
How Your Lawn Can Thrive on the Gold and Sunshine Coasts
Up in Sunshine Coast, we don't really get an Autumn or Winter, but we do get some serious wet seasons. When it's torrential down pouring, you don't want your lawn to drown. Invest in a bit of lawn aeration and coring so that your lawn can soak up the rainwater and disperse it below among the roots instead of puddling. .
Also avoid parking anything heavy, like your car or boat, on your lawn because the weight will make the soil compact, and that's not what you want for a healthy lawn.
Add Some Decoration
At the end of the day, you can have a gorgeous lawn, but if you want the nicest one on the block, you should think about adding a few decorative touches. Here are a few ideas:
Hang a Hammock
Have you got a couple of trees within close proximity to each other? Why not string up a relaxing hammock that you can lounge on and enjoy gazing at your beautiful lawn from? You won't be doing any damage to your lawn by putting any weight on the grass, but you still have a space to sit in your front yard.
String Up Fairy Lights
Whether you choose to string them up in the leaves of your trees, along your shrubbery, on the front porch, or the trunk of a tree, fairy lights at a look of whimsy to every home. Solar powered lights are great because they collect energy from the sun all day and then light up your lawn at night without the need for a power point. Now having the nicest lawn on the block won't stop at night.
Create a Wooden Footpath
If you've taken the time to work on a great lawn, you won't want everyone stepping on it everyday. You'll need a footpath to get from the pavement to the front door, so use reclaimed timber or other nice wood to keep the natural look in your front lawn.
For more tips on maintaining your lawn, or for turf supplies in Sunshine Coast, give Glenview Turf a call today.