Glenview Turf helps Pelican Waters Become a Magical Place To Live With Empire Zoysia Turf Grass
Pelican Waters is an 810ha master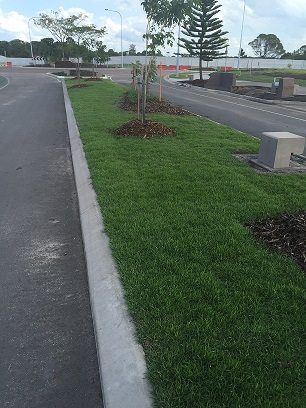 planned community situated in the heart of Caloundra on the Sunshine Coast, one of the fastest growth areas in Australia. With a population of around 5500 and growing, Pelican Waters offers a diverse range of residential living opportunities.
The new Pelican Waters Town Centre and Marina will provide a place to live, work and play. Not only will it create opportunities for both waterfront and main street businesses, it will also be a centre of convenience with a medical centre, child care centre, commercial offices, restaurants and other boutique retail. All this set amongst a variety of residential living options ranging from terrace homes and multiunit living to detached residential and waterfront home.
A representative from the Pelican Waters site came out to inspect the Glenview Turf Farm and was impressed with what they saw, particularly the Medium Leaf Empire Zoysia Turf Grass with its look, feel and easy maintenance. Glenview Turf is proud to be Pelican Waters chosen Turf Supplier and supplied, delivered and laid for this prestigious development.
Call 07 5628 0333
Email us at [email protected]
Click To Visit Our Empire Zoysia Turf Grass Information Page