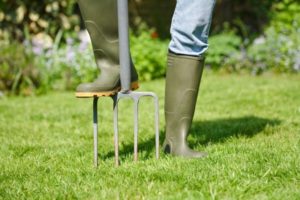 Aerating your lawn is necessary if you want a beautiful, green garden. Knowing how to properly aerate your lawn will save you time and money while helping to keep it lush. A well-kept lawn enhances your kerb appeal and helps to add value to your home.
If your lawn needs some tender loving care, it might be time to have it aerated.
What is Lawn Aeration?
Lawn aeration allows water, nutrients and air to enter the grass roots. This is done by pricking the soil with small holes to ensure the roots grow deeper. By doing so, your lawn becomes stronger and more dynamic.
Lawn aeration helps to reduce soil compaction. When soil is too compacted, solid particles get into the space in between the soil.  Because of this, the circulation of air, water and nutrients are prevented.
Why You Need to Aerate Your Lawn
Lawn aeration is necessary for the health and longevity of your grass. If your lawn is constantly being used, it needs to be aerated. Some lawns aren't as good at repairing themselves, and they will naturally require extra attention.
Your lawn needs to be aerated if:
It is constantly used, especially with children and pets
It dries out easily, particularly during the warmer months
It was installed as part of a new home. Often the topsoil is stripped away and the new soil isn't as good at growing grass
It is a cheaper blade of grass that isn't a tolerant to drought or hot, dry climates. These types of grass require more maintenance than their more expensive counterparts
If you notice your lawn discolouring or struggling to grow properly, aeration may be the answer.
How to Aerate Your Lawn
The best time to aerate your lawn is during the spring. After a cold and often wet winter, your soil is full of moisture. Early springtime provides the perfect conditions for aerating your lawn. The lawn aeration maintenance process is simple and straightforward:
Make sure your soil is moist enough to pierce. Ideally, the best time to aerate your lawn is the day after it has rained.
Using either a mechanical aerator or manual aerator, go over the lawn, pricking holes in the soil.
After you have gone over the lawn with the aerator, apply fertiliser or compost over the lawn. This will fill the holes with nutrients that will break down in the soil.
Post-aeration maintenance is just as important. Watering, fertilising and mowing regularly will help penetrate the soil with essential nutrients and oxygen. If you're uncertain whether your lawn needs to be aerated, contact your local lawn care specialist on the Sunshine Coast.
Lawn aeration is essential for the health of your grass. If you would like to learn more about keeping your lawn green, contact Glenview Turf today. Our experienced and friendly staff will advise you on how to best maintain your lawn.