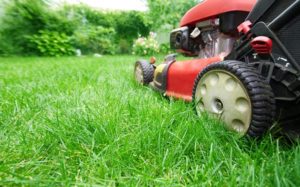 The more you know and understand about lawn fertiliser, the more equipped you'll be to make sure you're using the best practices to suit your lawn. Many people think that lawn fertiliser practices are the same for all grass varieties, but that's simply not the case. Some require more fertiliser than others and some require fertilising at different times of the year. You'll also want to make sure you get it right. Bad fertilising practices can lead to permanent damage to your soil and in turn, a turf that's not looking its best! Here are Glenview Turf's top fertiliser tips: 
Fertilise in Spring, Summer, and Autumn 
Fertilising in each of these seasons has different purposes and it's also the best way to guarantee your turf stays green all year round.
Spring: Spring is a great time to fertilise as your lawn moves away from being dormant in winter. Apply fertiliser to help give your lawn's growth a boost.
Summer: Summer can be a dry time for your lawn, causing it to look patchy. Fertilising in summer will help even out your lawn and help to keep it looking healthy.
Autumn: This is the most important time to fertilise your lawn before it becomes dormant for winter. Fertilising in autumn keeps your turf nice and thick through winter, overcoming those creeping weeds that often appear. 
Use a Spreader or Gloved Hand for Your Fertiliser 
If you're using chemical fertiliser, you need to be extra careful to spread your fertiliser evenly to avoid damage to your soil. For this, we suggest using a fertiliser spreader. If you are spreading organic fertiliser, a gloved hand should be sufficient.
Water Turf Immediately 
After fertilising your turf, be sure to water it as this will allow the nutrients to soak into the soil. If you leave it without watering, you run the risk of burning your grass. 
Apply Fertiliser Straight after You Mow 
If you want your fertiliser to be absorbed effectively into the soil, it's best to mow your lawn first and then apply your fertiliser straight after that. 
Ask for Advice about Fertilising Your Turf 
The team at Glenview Turf are the trusted experts in fertilising turf on the Sunshine Coast. Our knowledge and experience in lawns can't be matched. Glenview Turf provides the best advice, the finest turfs and the products you need to take care of your lawn, including fertilisers. For more information or advice, contact us today.