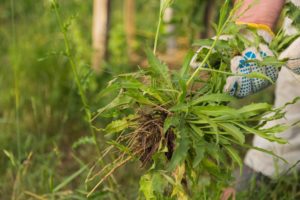 With a variety of weeds and lawn pests threatening to take control of your lawn, it's imperative to arm yourself with the best tips and information available. Follow our top tips to help you get rid of weeds and pests below!
Weed Control
Pulling Weeds
Pulling weeds may sound like a simple tip, but trying to keep up with weeds by pulling them is not always easy. But for weeds growing close to veggies in raised beds and containers, it's often the best option. Pull slowly from the base of the weed to ensure you pull a root out and make sure to use garden gloves for spiny plants like thistles. Pull weeds when the soil is still moist from watering for best results. So that they're actually contributing to the health of your garden, you can collect the weeds you've pulled and add them to a compost pile.
Mulching
Weeds have a hard time surviving without adequate sunlight. You can kill existing weeds, prevent new ones from growing and provide moist soil for the plants you actually want by using some old newspaper and some garden mulch. Cover the weeded area with several strips of large newspaper and top with mulch until it is no longer visible. If strong weeds manage to push through on your first attempt, add another layer of newspaper and more mulch.
Pest Control
Lawn Grubs
Control of lawn grubs and other pests usually requires an application of insecticide such as Acelepryn® Turf Insecticide. It provides effective control of a wide range of turf damaging insects while also minimising the impact on the environment. There are 2 ways to apply your insecticide:
1. For surface dwelling pests, apply in the late afternoon or early evening combined with a light watering.
2. For root eating types that exist further down in the soil, they will require a stronger concentrate of insecticide and a heavy watering. This will ensure that the product gets right into the root of the lawn for best effect.
Worms
The Wire Worm and False Wire Worm is the larvae stage of the click-beetle. These cause damage to underground roots and stems and will also eat seed embryos, preventing germination. Dead leaves and tiller are evidence of the lawn damage that they cause. To control wire worms, you will need to apply a high concentrate of insecticide and again, give it a decent watering down.
Expert Advice
If you still can't get rid of the weeds or pests yourself, it's time to contact Glenview Turf for some expert advice. At Glenview Turf, we have an Agronomist who can assist you with any queries you may have about how to best grow your lawn. He can assist you with any trouble-shooting questions that you may have, or, alternatively please visit the Maintenance section of our site.
For landscaping supplies on the Sunshine Coast, Brisbane, Wide Bay and Ipswich please call us on 5494 5616 to order now.