Glenview Turf has a long history of providing high quality instant lawns and Landscaping Supplies to the Sunshine Coast, Brisbane, Wide Bay and Ipswich at very affordable prices.

Managing Director, John Keleher (former Turf Queensland and Turf Australia President), comments, "We believe the company has grown to be one of the market leaders on the Sunshine Coast because of our strong commitment to providing customers with superb lawn at the very best prices possible."
Glenview Turf is one of accredited turf suppliers that recognises that an attractive lawn can add considerable value to anyone's home. Indeed, it is estimated that a well-kept lawn can increase one's property value by between 10 and 15%!
[swf]https://glenviewturf.com.au/video/transition.swf, 250, 188[/swf]
Glenview Turf's staff are well trained in providing advice and recommendations to home owners. Please feel comfortable in phoning us to ask which type of lawn would suit your property best.
Our Turf Consultant will simply ask you a series of check list questions about the likely use of your lawn and climate conditions – and within a jiffy, you will be provided with a recommendation or selection of the most appropriate lawn options.
This is one of the aspects which makes Glenview Turf very different from many turf suppliers. We understand that most people only purchase lawn once or twice throughout their lifetime and therefore would welcome advice from the experts.
Many of our customers tell us that it was a refreshing experience to phone Glenview Turf and be "walked through" the various lawn options which would suit their needs. (These customers had previously contacted other lawn suppliers and were greeted with a standard price per square metre quotation.)
Meet the Team at Glenview Turf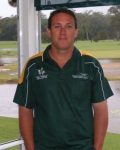 Farm Manager – Craig Banbury.
I started working at Glenview Turf 16 years ago. I am experienced in all aspects of the turf industry from Growing, Selling, Harvesting and Laying.
My aim is to provide a qu many applications like Golf Courses, Sports Ovals and Fields, School Ovals and grounds, Streetscapes, Parks, Housing Estates and House Yards. If you need turfing, we can help. Other products offered by our company include the supply of bagged Fertilizer, Rain Saver Crystals and we offer a Professional Laying and Preparation Service.
The lawn varieties we currently have are: Wintergreen Couch, Sir Walter Buffalo, Zoysia and Oz Tuff Sports Couch. The Sir Walter Buffalo Grass and the Zoysia Grass is what we like to call our Boutique turf.
Unique Palletless Delivery
Glenview Turf offers a unique service using our Palletless Delivery System. This means our pallets remain on our trucks and the forklifts remove the lawn off the pallet and then proceed to place the lawn as near as possible to the area that is being turfed. Offering this palletless service also means you do not have to worry about the removal of wooden pallets.
The turf varieties grown on our farm are harvested in a slab form; generally 2 slabs will equal approximately 1sq metre. We certainly try to achieve suitable delivery times that will meet your requirements. Our trucks deliver turf six (6) days per week and always just a phone call away is our experienced and helpful staff that can assist you with advice on different turf varieties available and what variety is best suited for your particular project.
Glenview Turf prides itself on being customer-focused and we can assure you that when you contact us, our aim is to provide you with the most cost-effective solution to your lawn needs.
Another thing about us, which distinguishes the company from our competitors, is the speed in which we react to a customer's order. We understand that most people "want it now" and therefore we work very diligently to ensure that our customer's lawn is delivered promptly and neatly.
So why not put us to the test? Phone us today and we trust that you will be very
impressed with the focus we place on your needs. You can contact us Monday to Friday from 7:00am – 5:00pm and Saturday from 8:30am-12:00pm on 5494 5616.


After Service Care
We have an Agronomist who can assist you with any queries you may have in regards to how to best grow your lawn or he can assist you with any trouble shooting questions that you may have. Alternatively please visit the Maintenance section of our site
Landscaping Supplies Sunshine Coast, Brisbane, Wide Bay and Ipswich
For Landscaping supplies such as turf, soil, turf underlay, water crystals, Lawntastic Fertiliser, Weed Control and Pest Control please call us 5494 5616 to order now. We supply to the Sunshine Coast, Brisbane and Ipswich.